In his '
View from the President's Chambers: the process of reform: an update
' in July 2013, the President of the Family Division, Sir James Munby, explained his concern at the amount of time and money wasted in the process of drafting orders that could be standardised. He appointed Mostyn J to lead a drafting group with the aim of providing a comprehensive set of orders, the use of which would become mandatory in the Family Court and the Family Division.
Here, we have all the
draft standard orders released to date in one place
for ease of reference and will continually update this page with breaking news on the orders project.
Towards the end of 2013 the
first tranche of orders
were disseminated. These focused on the following:
Reporting Restriction Order

Arbitration Orders

Committals

Forced Marriage

Part IV

Financial Remedies

Search and Freezing Orders
In his
12th 'View from the President's Chamber: The process of reform: next steps'
on 9 June 2014, the President reiterated the continued aim, as with every aspect of the family justice system, to 'simplify and streamline the process so as to make it more user friendly for litigants,litigants in person in particular, and quicker and cheaper for all'. The President remains 'convinced of the necessity of producing a comprehensive set of forms of order for use in the Family Division and the Family Court'.
Accordingly, now circulated for discussion and comment, is a

 
further batch of draft orders
 

prepared by Mostyn J's team for use in the High Court. These orders relate to:
Abduction

 

– including collection orders, location orders, passports and wardship.
Disclosure

 

– including a request to the Home Office, Government departments and the police.
The Human Fertilisation & Embryology Act 2008 & Child Treatment

 

– including parental orders and medical treatment or procedure orders and withdrawal of treatment.
Implementation of the orders will be staged and whilst the latest orders appear to be subject to discussion, it is wise for practitioners to familiarise themselves with the content.
Any comments or thoughts on the latest batch of orders should be sent to Andrew Shaw by email at

 
Andrew.shaw@judiciary.gsi.gov.uk
.
---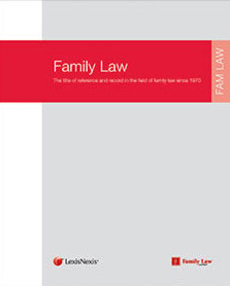 Family Law is the title of reference and record in the field of family law since 1970 and is the leading practitioner journal compiled by experts for family law professionals. The journal features the latest official guidances, in-depth case analysis and topical articles.
Family Law journal is available as either a print or online subscription.

 Find out more or request a free 1-week trial of Family Law journal.