Issue 3 of Child and Family Law Quarterly 2018 is published today. Articles in this special issue focusing on marriage include:
A uniform law of marriage? The 1868 Royal Commission reconsidered Rebecca Probert, Maebh Harding and Brian Dempsey
Beyond belief: the law and practice of marriage formation in contemporary Scotland Murray McLean
A uniform marriage law for England and Wales? Rebecca Probert
Changing conceptions of marriage in Ireland: law and practice Susan Leahy and Kathryn O'Sullivan
Marriage and civil partnership in Northern Ireland: a changing legal landscape Frank Cranmer and Sharon Thompson
Individual copies of this special issue of CFLQ can be
ordered online
.
---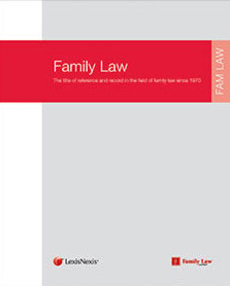 Family Law is the title of reference and record in the field of family law since 1970 and is the leading practitioner journal compiled by experts for family law professionals. The journal features the latest official guidances, in-depth case analysis and topical articles.
Family Law journal is available as either a print or online subscription.

 Find out more or request a free 1-week trial of Family Law journal. Please quote: 100482.
---