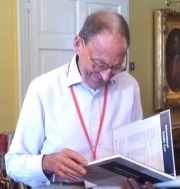 Jordan Publishing is delighted to announce that Sir Mathew Thorpe has been awarded the Cornwell Award for Outstanding Contribution to Family Law. Sir Mathew will collect his award at the Family Law Awards ceremony on 9 October 2013 at the London Hilton hotel on Park Lane, Mayfair.
In July Sir Mathew retired from the judiciary, the Court of Appeal and as Head of International Family Justice for England and Wales.
The office of Head of International Family Justice was created in 2005, by the then Lord Chief Justice and Lord Chancellor in order to deal with the steady and continuing growth of international family litigation and its consequent demands.
In this role he has worked tirelessly to develop trans-national judicial collaboration and direct judicial communication in international family cases. This has led to a reduction in delays and financial costs in cross-border cases, and helped reduce the emotional distress experienced by the parties involved.
He was instrumental in the setting up of the International Hague Network of Judges in 1998. Now in its 15th year, the Network, the only global formally established network of family law judges, is the key tool by which judicial collaboration is facilitated.
Sir Mathew practiced in various areas of law until he took Silk in 1980, thereafter he specialised in family law. In 1988 he was appointed a judge of the High Court Family Division and Lord Justice of Appeal in 1995.
The award is dedicated in honour of John Cornwell, a former Senior Partner of Dawson Cornwell, who received the award last year before he died at the age of 69 in February.
John Cornwell dedicated his working life to the development and progress of family law. He founded the Solicitors' Family Law Association (now Resolution) and drafted a code of conduct that has guided family law solicitors to practice to the highest standards ever since.
To mark Sir Mathew's retirement, Jordan Publishing and the editors of International Family Law, of which he is Consultant Editor, presented him last month with a Special Issue in his honour (photo) with contributions from over 30 leading members of the international judiciary and academic life including the Lord Chief Justice and Baroness Butler-Sloss.