(Court of Appeal, Patten, Floyd, King LJJ, 5 October 2017)
Financial remedies – Part III, Matrimonial and Family Proceedings Act 1984 – Lump sum order – Appeal
 The appeal from a determination under Part III of the Matrimonial and Family Proceedings Act 1984 was allowed and the lump sum order set aside.
---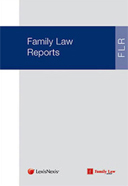 For comprehensive, judicially approved coverage of every important Family Division, Court of Appeal, Supreme Court and European courts case, subscribe to Family Law Reports.
Subscribers can

 

log in here.
Find out more
 or 
request a free 1-week trial
 of the Family Law Reports. Please quote: 100482. 
---
Case No: B6/2016/3070

Neutral Citation Number: [2017] EWCA Civ 1429
IN THE COURT OF APPEAL (CIVIL DIVISION)
ON APPEAL FROM THE HIGH COURT OF JUSTICE
FAMILY DIVISION
Mrs Justice Roberts
FD14F00368


Royal Courts of Justice
Strand, London, WC2A 2LL
Date: 05/10/2017
Before:
LORD JUSTICE PATTEN
LORD JUSTICE FLOYD
and
LADY JUSTICE KING
- - - - - - - - - - - - - - - - - - - - -
Between :
Zimina
Respondent
- and -
Zimin
Appellant 
- - - - - - - - - - - - - - - - - - - - -
- - - - - - - - - - - - - - - - - - - - -
Lewis Marks QC and Catherine Cowton (instructed by Stewarts Law LLP) for the Appellant
Richard Todd QC and Nicholas Yates (instructed by Vardags) for the Respondent
Hearing dates: 14, 15 June 2017
- - - - - - - - - - - - - - - - - - - - -
Judgment 

Judgment: 
Zimina v Zimin [2017] EWCA Civ 1429.rtf