(Family Division, Baker J, 22 December 2017)
Jurisdiction – Private law proceedings – Removal to Northern Ireland – Forum conveniens – Whether there were live proceedings before the English court
The court found that England was the more suitable forum and declined to stay the proceedings.
---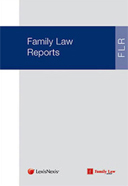 For comprehensive, judicially approved coverage of every important Family Division, Court of Appeal, Supreme Court and European courts case, subscribe to Family Law Reports.
Subscribers can

 

log in here.
Find out more
 or 
request a free 1-week trial
 of the Family Law Reports. Please quote: 100482. 
---
IMPORTANT NOTICE
This judgment was delivered in private. The judge has given leave for this version of the judgment to be published on condition that (irrespective of what is contained in the judgment) in any published version of the judgment no person other than the advocates or the solicitors instructing them and other persons named in this version of the judgment may be identified by name or location and that in particular the anonymity of the child and members of his family must be strictly preserved. All persons, including representatives of the media, must ensure that this condition is strictly complied with. Failure to do so will be a contempt of court.
Case No: FD15P00276
Neutral Citation Number: [2017] EWHC 3698 (Fam)

IN THE HIGH COURT OF JUSTICE
FAMILY DIVISION



Courtroom No. 45
The Royal Courts of Justice
Strand
London
WC2A 2LL
Friday, 22nd December 2017
Before:
THE HONOURABLE MR JUSTICE BAKER
IN THE MATTER OF THE FAMILY LAW ACT 1986
AND IN THE MATTER OF THE SENIOR COURTS ACT 1981
AND IN THE MATTER OF C (A CHILD) (JURISDICTION)
B E T W E E N:

- - - - - - - - - - - - -
 Y
Applicant
and
 H (1)
 C (2)
Respondents
- - - - - - - - - - - - -
Transcript from a recording by Ubiqus
291-299 Borough High Street, London SE1 1JG
Tel: 020 7269 0370
legal@ubiqus.com

- - - - - - - - - - - - -

ADELE CAMERON-DOUGLAS (instructed by Accessslaw) appeared on behalf of the Applicant
HUGH MERRY appeared by direct access on behalf of the First Respondent
ANTHONY HAND (instructed by Abels Solicitors) appeared on behalf of the Second Respondent
- - - - - - - - - - - - -
JUDGMENT

Judgment: Y v H and Another [2017] EWHC 3698 (Fam).rtf