(Family Court, Baker J, 21 December 2017)
Financial remedies – Divorce – Separation of goods agreement – Individually wealthy husband and wife – Sharing principle – Special contribution
The court found that the husband's contribution to the growth in the value of the business assets during the marriage came within the concept of special contribution and justified departing from the sharing principle.
---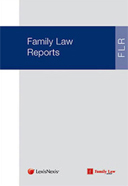 For comprehensive, judicially approved coverage of every important Family Division, Court of Appeal, Supreme Court and European courts case, subscribe to Family Law Reports.
Subscribers can

 

log in here.
Find out more
 or 
request a free 1-week trial
 of the Family Law Reports. Please quote: 100482. 
---
Neutral Citation Number: [2017] EWFC 76

Case No: ZC15D04000
IN THE FAMILY COURT


Royal Courts of Justice
Strand, London, WC2A 2LL
Date: 21 December 2017
Before :
THE HONOURABLE MR JUSTICE BAKER
- - - - - - - - - - - - - - - - - - - - -
Between :
XW
Petitioner
- and -
XH
Respondent
- - - - - - - - - - - - - - - - - - - - -
- - - - - - - - - - - - - - - - - - - - -
Lucy Stone QC and Duncan Brooks (instructed by Stewarts Law LLP) for the Petitioner
Martin Pointer QC and Rebecca Carew Pole (instructed by Sears Tooth) for the Respondent
Hearing dates: 12 – 16, 19 – 23 June 2017

- - - - - - - - - - - - - - - - - - - - -
Judgment Approved


Judgment: 
XW and XH [2017] EWFC 76.rtf