(Court of Appeal, Sir James Munby, the President of the Family Division, Moylan, MacDonald LJJ, 11 April 2018)
Financial remedies – Sharing principle – Husband's post-separation income as a result of marital endeavour – Whether wife was entitled to share rather than maintenance on needs basis
The wife's appeal, launched on the basis that she was entitled to share the husband's post-separation income, was dismissed.
---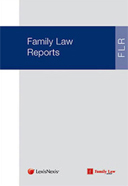 For comprehensive, judicially approved coverage of every important Family Division, Court of Appeal, Supreme Court and European courts case, subscribe to Family Law Reports.
Subscribers can

 

log in here.
Find out more
 or 
request a free 1-week trial
 of the Family Law Reports. Please quote: 100482. 
---
Case No: B6/2016/0784
Neutral Citation Number: [2018] EWCA Civ 727
IN THE COURT OF APPEAL (CIVIL DIVISION)
ON APPEAL FROM
RECORDER TIDBURY
SITTING AS A JUDGE OF THE FAMILY COURT

Royal Courts of Justice
Strand, London, WC2A 2LL
Date: 11/04/2018
Before :
SIR JAMES MUNBY PRESIDENT OF THE FAMILY DIVISION
LORD JUSTICE MOYLAN
and
MR JUSTICE MACDONALD
- - - - - - - - - - - - - - - - - - - - -
Between :
KIM WAGGOTT
Appellant
- and -
WILLIAM H WAGGOTT
Respondent
- - - - - - - - - - - - - - - - - - - - -
- - - - - - - - - - - - - - - - - - - - -
Mr James Turner QC and Mr Thomas Dance (instructed by BP Collins LLP) for the Appellant
Mr Nigel Dyer QC and Ms Lily Mottahedan (instructed by Penningtons Manches LLP) for the Respondent
Hearing dates: 29th and 30th November 2017
- - - - - - - - - - - - - - - - - - - - -
Judgment