(Family Court, Mostyn J, 10 May 2018)
Practice and procedure – Enforcement – Financial order – Order for sale sought on property subject to charging order – CPT 73.10C(3)
Mostyn J reiterated that pursuant to CPR 73.10C(3) enforcement proceedings, even those seeking an order for sale over a property subject to a charging order should be issued in the Family Court, not the High Court.
---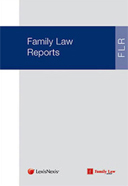 For comprehensive, judicially approved coverage of every important Family Division, Court of Appeal, Supreme Court and European courts case, subscribe to Family Law Reports.
Subscribers can

 

log in here.
Find out more
 or 
request a free 1-week trial
 of the Family Law Reports. Please quote: 100482. 
---
Neutral Citation Number: [2018] EWFC 30

Case No: FD17P00079
IN THE FAMILY COURT



Royal Courts of Justice
Strand, London, WC2A 2LL
Date: 10/05/2018
Before :
MR JUSTICE MOSTYN
- - - - - - - - - - - - - - - - - - - - -
Between :

VS
Applicant
- and -

RE
Respondent

- - - - - - - - - - - - - - - - - - - - -
- - - - - - - - - - - - - - - - - - - - -
Frank Feehan QC (instructed by Banks Kelly Solicitors) for the Applicant
Mark Warwick QC (instructed by BP Collins LLP) for the Respondent
Hearing date: 25 April 2017
- - - - - - - - - - - - - - - - - - - - -
Judgment Approved 

Judgment: 
VS v RE [2018] EWFC 30.docx