(Court of Appeal, King, Richards, Moylan LJJ, 17 May 2018)
Financial remedies – Maintenance – Scottish divorce proceedings – Wife living in England and applied for maintenance under the MCA 1973 – Appeal from maintenance order
 The husband's appeal from a decision by the English court awarding the wife maintenance during the ongoing Scottish divorce proceedings was dismissed.


---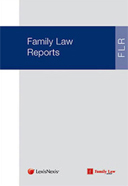 For comprehensive, judicially approved coverage of every important Family Division, Court of Appeal, Supreme Court and European courts case, subscribe to Family Law Reports.
Subscribers can

 

log in here.
Find out more
 or 
request a free 1-week trial
 of the Family Law Reports. Please quote: 100482. 
---
Neutral Citation Number: [2018] EWCA Civ 1120

Case No: B6/2016/3422

IN THE COURT OF APPEAL (CIVIL DIVISION)
ON APPEAL FROM THE HIGH COURT OF JUSTICE
(FAMILY DIVISION)
Mrs Justice Parker
[2016] EWHC 668 (Fam)

Royal Courts of Justice
Strand, London, WC2A 2LL
Date: 17/05/2018
Before:
LADY JUSTICE KING
LORD JUSTICE DAVID RICHARDS
and
LORD JUSTICE MOYLAN
- - - - - - - - - - - - - - - - - - - - -
Between:
Charles Alastair Hyde Villiers
Appellant
- and -
Emma Mary Jane Villiers
Respondent
- - - - - - - - - - - - - - - - - - - - -
- - - - - - - - - - - - - - - - - - - - -
Michael Horton and Alexander Laing (instructed by Bar Pro Bono Unit) for the Appellant
Timothy Scott QC (instructed by Penningtons Manches LLP) for the Respondent
Hearing dates: 13 – 14 March 2018
- - - - - - - - - - - - - - - - - - - - -
Judgment Approved

Judgment: Villiers v Villiers [2018] EWCA Civ 1120.rtf