(Court of Justice of the European Union, 12 April 2018)
Private law children – Contact – Grandparents – BIIA – Meaning of rights of access
The CJEU held that the concept of 'rights of access' referred to in Article 1(2)(a) and Article 2(10) of BIIA must be interpreted as meaning that it extended to the rights of access of grandparents to their grandchildren.
---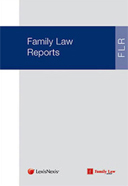 For comprehensive, judicially approved coverage of every important Family Division, Court of Appeal, Supreme Court and European courts case, subscribe to Family Law Reports.
Subscribers can

 

log in here.
Find out more
 or 
request a free 1-week trial
 of the Family Law Reports. Please quote: 100482. 
---
OPINION OF ADVOCATE GENERAL
SZPUNAR
Delivered on 12 April 2018 (1)
Case C‑335/17
Neli Valcheva

v
Georgios Babanarakis
(Request for a preliminary ruling from the Varhoven kasatsionen sad (Supreme Court of Cassation, Bulgaria))
(Reference for a preliminary ruling — Judicial cooperation in civil matters — Regulation (EC) No 2201/2003 — Scope –– Concept of 'rights of access' — Applicability to grandparents)

Judgment: Valcheva v Babanarakis (Case C 335_17).docx