Brian Cantwell, The Family Conflicts Consultation Service, Hexham
The article is built around the proposition that, presently, there is a unique opportunity to rethink services due to three factors – the current work of the Private Law Working Group, the recent enactment of 'No Fault' divorce legislation and the Covid-19 pandemic. It speculates on the impact each might have on practice development.

Historically, Cantwell notes, 'the law does not permit the language of emotions'. He argues that this disregard for the emotional aspects of divorce/separation, for children and parents, is a barrier to family recovery and a potential risk to adult and child mental health.

As a family consultant with Resolution for almost ten years, the author has been involved in the local development of interdisciplinary practice beyond the Collaborative Law model. This includes the assessment of 'emotional readiness' for mediation, a service 'gap' described by recent research as 'a largely unmet need'. Such small steps by progressive lawyers could lead to relatively inexpensive, holistic services that give proper attention to the emotional aspects of parental separation, most notably the loss and bereavement process.

---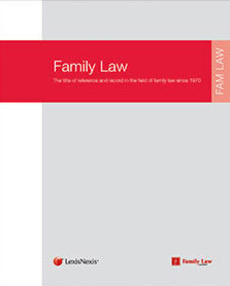 The full article will be published in the September issue of Family Law.
Find out more or request a free 1-week trial of Family Law journal. Please quote: 100482.
---