(Family Court, Peter Jackson LJ, 22 January 2018)
Public law children – Fact-finding hearing – Rehearing – Medical evidence – Inflicted injury or undiagnosed medical condition
The local authority had proved its case that inflicted injury was more likely than not the cause of the child's fractures.
---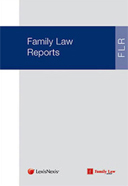 For comprehensive, judicially approved coverage of every important Family Division, Court of Appeal, Supreme Court and European courts case, subscribe to Family Law Reports.
Subscribers can

 

log in here.
Find out more
 or 
request a free 1-week trial
 of the Family Law Reports. Please quote: 100482. 
---
IMPORTANT NOTICE
This judgment may be published provided that family members are not identified. All persons, including representatives of the media, must ensure that this condition is strictly complied with. Failure to do so will be a contempt of court.
Case No: LV14C01661
Neutral Citation Number: [2018] EWFC 1
IN THE FAMILY COURT


22 January 2018
Before :
THE RT. HON. LORD JUSTICE PETER JACKSON
Sitting as a Judge of the Family Court 
at the Royal Courts of Justice

- - - - - - - - - - - - - - - - - - - -
Between :
M
Applicant
-and-
ST HELENS BOROUGH COUNCIL

-and-

F
-and-

C (a child)
Respondents
- - - - - - - - - - - - - - - - - - - -
Karl Rowley QC and Tammi Bannon (instructed by Stephenson's Solicitors) for the Mother
Andrew Loveridge (instructed by St Helens Borough Council) for the Local Authority
Frank Feehan QC and Janet Reaney (instructed by Berkson Family Law Solicitors) for the Father
Clive Baker (instructed by Morecrofts LLP) for the Child
Hearing dates: 6-10, 13-14 November 2017 Judgment date: 22 January 2018
- - - - - - - - - - - - - - - - - - - - -
JUDGMENT
Judgment: 
St Helens Council v M and F (Baby with Multiple Fractures_Rehearing) [2018] EWFC 1.rtf