Oliver Cyriax, Solicitor (Retired), NATC
On 7 May 2021 the Ministry of Justice announced a change of direction for the Section 8 private law programme. Ministers indicated that the preparation of general guidance on best interests levels of child-access is the judiciary's prerogative. No such guidance currently exists. But prospective litigants could receive guidance on the issue in dispute - before legal proceedings are issued and/or before the first hearing - provided it emanates from the judiciary in a project managed by the judiciary. The door to easily-delivered system-wide change is now open: members of the judiciary have expressed support for the introduction of this new guidance, and a fully-developed proposal for a judicially-led one-court pilot project (for cases with no safety issues) already has senior judicial approvals. The results of this pilot, designed to deflect parents away from court, would be evaluated. Likely consequences include diminished pressure on the family courts; an immediate nationwide equivalent of the proposed Family Solutions service; and delivery of the Family Solutions Group's vision for a joined-up system reflecting the child's best interests (What about me?).
---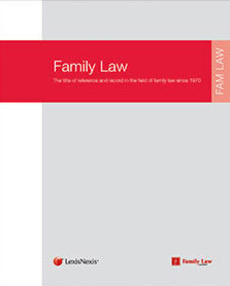 The full article will be published in the July issue of Family Law.
Find out more or request a free 1-week trial of Family Law journal. Please quote: 100482.
---