(Family Division, Sir Peter Singer, 12 July 2017)
Abduction – Undertakings – Iran – Whether the safeguards offered by the father were sufficient – Whether the child should be returned to Iran
The father's application for a return order to Iran was refused.
---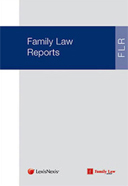 For comprehensive, judicially approved coverage of every important Family Division, Court of Appeal, Supreme Court and European courts case, subscribe to Family Law Reports.
Subscribers can

 

log in here.
Find out more
 or 
request a free 1-week trial
 of the Family Law Reports. Please quote: 100482. 
---
Neutral Citation Number: [2017] EWHC 3184 (Fam)

Case No: FD16P00558
IN THE ROYAL COURTS OF JUSTICE
FAMILY DIVISION


The Royal Courts of Justice
The Strand
London
WC2A 2LL
Date: Wednesday, 12th July 2017
Before:
SIR PETER SINGER
(Sitting as a Judge of the High Court)
- - - - - - - - - - - - - - - -
B E T W E E N:
 S 
and
 S 
- - - - - - - - - - - - - - - -
- - - - - - - - - - - - - - - -
MR SAMUEL (instructed by James Maguire and Co) appeared on behalf of the Mother
The Father was unrepresented on this occasion
- - - - - - - - - - - - - - - -
JUDGMENT (Approved)