(Family Division, Russell J, 7 March 2018)
Costs – Judgment debt – Legal fees in financial remedy proceedings – Default judgment – Application to set aside
The judge set aside the default judgment regarding a judgment debt owed to the wife's solicitors in financial remedy proceedings.
---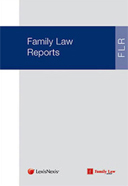 For comprehensive, judicially approved coverage of every important Family Division, Court of Appeal, Supreme Court and European courts case, subscribe to Family Law Reports.
Subscribers can

 

log in here.
Find out more
 or 
request a free 1-week trial
 of the Family Law Reports. Please quote: 100482. 
---
Neutral Citation Number: [2018] EWHC 449 (Fam)

Case No: RG11D00397
IN THE HIGH COURT OF JUSTICE
FAMILY DIVISION


Royal Courts of Justice
Strand, London, WC2A 2LL
Date: 07/03/2018
Before :
MRS JUSTICE ROBERTS
- - - - - - - - - - - - - - - - - - - - -
Between :
RS
Petitioner
- and -
LS
First Respondent
- and -
Levison Meltzer Pigott
Second Respondent
- - - - - - - - - - - - - - - - - - - - -
- - - - - - - - - - - - - - - - - - - - -
The First Respondent ("LS") appeared in person
Mr Shaiba Ilyas (instructed by DWF LLP) for the The Second Respondent ("LMP")
There was no appearance by the Petitioner
Hearing dates: 29 November 2017
- - - - - - - - - - - - - - - - - - - - -
Judgment Approved


Judgment:
RS v LS and LMP [2018] EWHC 449 (Fam).rtf