(Family Court, Sir James Munby, the President of the Family Division, 26 April 2018)
Public law children – Secure accommodation – Beyond parental control – Application for care order
A care order was made in respect of the 16-year-old whose behaviour was beyond parental control with provision for accommodation at a low security unit.
---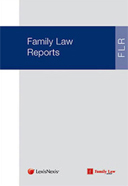 For comprehensive, judicially approved coverage of every important Family Division, Court of Appeal, Supreme Court and European courts case, subscribe to Family Law Reports.
Subscribers can

 

log in here.
Find out more
 or 
request a free 1-week trial
 of the Family Law Reports. Please quote: 100482. 
---
Neutral Citation Number: [2018] EWFC 25

Case number omitted
IN THE FAMILY COURT
(Sitting at COVENTRY)


Royal Courts of Justice
Strand, London, WC2A 2LL
Date: 26 April 2018
Before :
SIR JAMES MUNBY PRESIDENT OF THE FAMILY DIVISION
- - - - - - - - - - - - - - - - - - - - -
In the matter of Z (A Child)
- - - - - - - - - - - - - - - - - - - - -
- - - - - - - - - - - - - - - - - - - - -
Miss Charlotte Page (of the Local Authority legal department) for Warwickshire County Council
Miss Sharon Wilkinson (of Cocks Lloyd) for Z's parents
Mr Andrew Wisniewski (of Family Law Solicitors) for Z's guardian Amy Withers
Hearing date: 12 April 2018
- - - - - - - - - - - - - - - - - - - - -
Judgment Approved
This judgment was handed down in open court

Judgment: Re Z (A Child) [2018] EWFC 25.rtf