(Family Division, HHJ Sir Gavyn Arthur, sitting as a deputy High Court judge, 17 October 2014)
Public law children – Fact-finding – Re-hearing – Serious social work failures – Allegations of sexual and physical abuse – ABE interview procedure not followed
The serious findings of sexual and physical abuse sought by the local authority were not made out.
---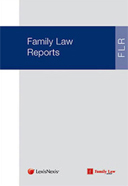 For comprehensive, judicially approved coverage of every important Family Division, Court of Appeal, Supreme Court and European courts case, subscribe to Family Law Reports.
Subscribers can

 

log in here.
Find out more
 or 
request a free 1-week trial
 of the Family Law Reports. Please quote: 100482. 
---
This judgment was delivered in private. The judge has given leave for this version of the judgment to be published in accordance with his Order of 6 July 2015 on condition that (irrespective of what is contained in the judgment) in any published version of the judgment the anonymity of the children and members of their family must be strictly preserved. All persons, including representatives of the media, must ensure that this condition is strictly complied with. Failure to do so will be a contempt of court.
Case No. LU13C03205
Neutral Citation Number: [2014] EWHC 4347 (Fam)


Sitting at:
Royal Courts of Justice
Friday, 17th October 2014
Before:
HIS HONOUR JUDGE SIR GAVYN ARTHUR
(Sitting as a Deputy High Court Judge)
(In Private)
- - - - - - - - - - - - - - - -
B E T W E E N :
LUTON BOROUGH COUNCIL
Applicant
- and -
"FAMILY W"
Respondents
- - - - - - - - - - - - - - - -
- - - - - - - - - - - - - - - -
J U D G M E N T

Judgment:
Re W (Fact-Finding) [2014] EWHC 4347 (Fam).rtf