(Family Court, Sir James Munby, the President of the Family Division, 20 November 2017)
Disclosure – Care proceedings – Social worker sought permission to disclose in proceedings in the ECHR
The applicant was granted permission to disclose documents in care proceedings in her action before the European Court of Human Rights.
---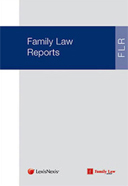 For comprehensive, judicially approved coverage of every important Family Division, Court of Appeal, Supreme Court and European courts case, subscribe to Family Law Reports.
Subscribers can

 

log in here.
Find out more
 or 
request a free 1-week trial
 of the Family Law Reports. Please quote: 100482. 
---
Case Nos: LU12C0341/LU13C03205

Neutral Citation Number: [2017] EWFC 74
IN THE FAMILY COURT
Sitting at the ROYAL COURTS OF JUSTICE


Royal Courts of Justice
Strand, London, WC2A 2LL
Date: 20 November 2017
Before :
SIR JAMES MUNBY PRESIDENT OF THE FAMILY DIVISION

- - - - - - - - - - - - - - - - - - - - -

In the matter of W(Children)
Application by SW (No 2)

- - - - - - - - - - - - - - - - - - - - -
- - - - - - - - - - - - - - - - - - - - -
No hearing : application dealt with on paper
- - - - - - - - - - - - - - - - - - - - -
This judgment was handed down in open court
Judgment

Judgment: Re W (Children) SW (No 2) [2017] EWFC 74.rtf