(Court of Appeal, McFarlane, Davis, Hickinbotton LJJ, 23 November 2017)
Public law children – Non-molestation order – Jurisdiction – Inherent jurisdiction or s 42, FLA 1996 – Power of arrest
The Court of Appeal allowed the appeal and made a non-molestation order under s 42 of the Family Law Act 1996 with a power of arrest for breach.
---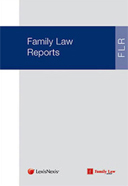 For comprehensive, judicially approved coverage of every important Family Division, Court of Appeal, Supreme Court and European courts case, subscribe to Family Law Reports.
Subscribers can

 

log in here.
Find out more
 or 
request a free 1-week trial
 of the Family Law Reports. Please quote: 100482. 
---
Neutral Citation Number: [2017] EWCA Civ 1889


Case No: B4/2017/1272/FAFMF
IN THE COURT OF APPEAL (CIVIL DIVISION)
ON APPEAL FROM HIGH COURT (FAMILY DIVISION)
His Honour Judge Furness QC, sitting as a judge of the High Court
CF 17 P 00290

Royal Courts of Justice
Strand, London, WC2A 2LL
Date: 23 November 2017
Before:


LORD JUSTICE MCFARLANE
LORD JUSTICE DAVIS
and
LORD JUSTICE HICKINBOTTOM
- - - - - - - - - - - - - - - - - - - - -
Between:


Re : T (a child)


- - - - - - - - - - - - - - - - - - - - -
- - - - - - - - - - - - - - - - - - - - -
Mr Dominic Boothroyd (instructed by Merthyr Tydfil County Borough Council) for the Appellant
Neither Respondent attended or was represented
Hearing date: 7 November 2017
- - - - - - - - - - - - - - - - - - - - -
Judgment Approved

Judgment: 
Re T (A Child) [2017] EWCA Civ 1889.rtf