(Court of Appeal, Patten, Moylan, Peter Jackson LJJ, 25 May 2018)
Abduction – Wrongful retention – Return order under Hague Convention or BIIA
The Court of Appeal held that a court should defer making a return order under BIIA until a determination had been made in Hague Convention proceedings.
---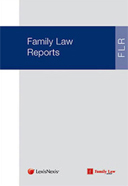 For comprehensive, judicially approved coverage of every important Family Division, Court of Appeal, Supreme Court and European courts case, subscribe to Family Law Reports.
Subscribers can

 

log in here.
Find out more
 or 
request a free 1-week trial
 of the Family Law Reports. Please quote: 100482. 
---
Neutral Citation Number: [2018] EWCA Civ 1226

Case No: B4/2017/2982
IN THE COURT OF APPEAL (CIVIL DIVISION)
ON APPEAL FROM
Mrs JUSTICE GWYNNETH KNOWLES
HIGH COURT OF JUSTICE
FAMILY DIVISION

Royal Courts of Justice
Strand, London, WC2A 2LL
Date: 25 May 2018
Before :
LORD JUSTICE PATTEN
LORD JUSTICE MOYLAN
and
LORD JUSTICE PETER JACKSON
- - - - - - - - - - - - - - - - - - - - -
Between :
Re: S (Abduction: Hague Convention or BIIa)
- - - - - - - - - - - - - - - - - - - - -
- - - - - - - - - - - - - - - - - - - - -
Ms Jacqueline Renton and Ms Charlotte Baker (instructed by Brethertons LLP) for the Appellant
Mr Richard Harrison QC and Ms Jennifer Perrins (instructed by Anthony Louca Solicitors Limited) for the Respondent
Hearing date : 8th March 2018
- - - - - - - - - - - - - - - - - - - - -
Judgment Approved

Judgment:
Re S (Abduction Hague Convention Or BIIA) [2018] EWCA Civ 1226.rtf