(Court of Appeal, Moylan and Jackson LJJ, 26 March 2018)
Private law children – Child abduction – Application under 1980 Hague Child Abduction Convention -Whether judge was wrong to summarily dismiss the mother's application
The appeal was allowed and the mother's application was restored for further directions.
---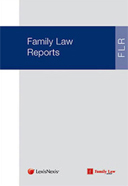 For comprehensive, judicially approved coverage of every important Family Division, Court of Appeal, Supreme Court and European courts case, subscribe to Family Law Reports.
Subscribers can

 

log in here.
Find out more
 or 
request a free 1-week trial
 of the Family Law Reports. Please quote: 100482. 
---
Case No: B4/2018/0497

Neutral Citation Number : [2018] EWCA Civ 1453

IN THE COURT OF APPEAL (CIVIL DIVISION)

The Royal Courts of Justice
Strand, London, WC2A 2LL
Monday, 26 March 2018
Before:
LORD JUSTICE MOYLAN
and
LORD JUSTICE PETER JACKSON

- - - - - - - - - - - - - - - - - - - - - 

IN THE MATTER OF S (A CHILD)
- - - - - - - - - - - - - - - - - - - - - 
Transcript of Epiq Europe Ltd 165 Street 
London EC4A 2DY
Tel No: 020 7404 1400 
Email: TTP@epiqglobal.co.uk 
 (Official Shorthand Writers to the Court)
- - - - - - - - - - - - - - - - - - - - - 
Mr Edward Devereux QC and Mr Edward Bennett (instructed by Best Solicitors) appeared on behalf of the Applicant
Mr Nicolas Anderson (instructed by Major Family Law Solicitors) appeared on behalf of the Respondent
- - - - - - - - - - - - - - - - - - - - -
Judgment
Judgment: Re S (A Child) [2018] EWCA Civ 1453.doc