(Court of Appeal, McFarlane, Gloster, Hickinbottom LJJ, 16 February 2018)
Public law children – Fact finding – Criminal and family proceedings – Approach
The father's appeal from fact-findings made in family proceedings following his acquittal in criminal proceedings was allowed and a retrial was ordered.
---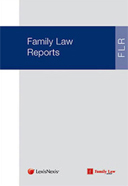 For comprehensive, judicially approved coverage of every important Family Division, Court of Appeal, Supreme Court and European courts case, subscribe to Family Law Reports.
Subscribers can

 

log in here.
Find out more
 or 
request a free 1-week trial
 of the Family Law Reports. Please quote: 100482. 
---
Neutral Citation Number: [2018] EWCA Civ 198


Case No: B4/2017/2463/CCFMF
IN THE COURT OF APPEAL (CIVIL DIVISION)
ON APPEAL FROM THE FAMILY COURT
Mrs Justice Theis DBE


Royal Courts of Justice
Strand, London, WC2A 2LL
Date: 16/02/2018
Before:
LADY JUSTICE GLOSTER
LORD JUSTICE MCFARLANE
and
LORD JUSTICE HICKINBOTTOM

- - - - - - - - - - - - - - - - - - - - -
Between:
R (Children)

- - - - - - - - - - - - - - - - - - - - -
- - - - - - - - - - - - - - - - - - - - -
June Venters QC and Miss Yasmeen Ul Haq (instructed by Venters Solicitors) for the Appellant
Janet Bazley QC and Catherine Jenkins (instructed by X County Council) for the 1st Respondent
Malcolm Chisholm (instructed by Child Law Partnership) for the 2nd Respondent
Hearing date: 6 December 2017
- - - - - - - - - - - - - - - - - - - - -
Judgment Approved 

Judgment: Re R (Children) [2018] EWCA Civ 198.rtf