(Court of Appeal, McFarlane, David Richards, Peter Jackson LJJ, 11 April 2018)

Public law children – Fact-finding – Allegations of sexual abuse made out – Delay of full reasoning – Insufficiency of clarification

The appeal from findings of sexual abuse was allowed.
---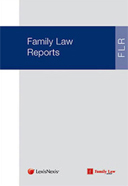 For comprehensive, judicially approved coverage of every important Family Division, Court of Appeal, Supreme Court and European courts case, subscribe to Family Law Reports.
Subscribers can

 

log in here.
Find out more
 or 
request a free 1-week trial
 of the Family Law Reports. Please quote: 100482. 
---
Case No: B4/2017/2741 + 2742/FAFMF

Neutral Citation Number: [2018] EWCA Civ 720
IN THE COURT OF APPEAL (CIVIL DIVISION)
ON APPEAL FROM HIGH COURT FAMILY DIVISION
MRS JUSTICE PARKER
MK16C80076

Royal Courts of Justice
Strand, London, WC2A 2LL
Date: 11/04/2018
Before:
LORD JUSTICE MCFARLANE
LORD JUSTICE DAVID RICHARDS
and
LORD JUSTICE PETER JACKSON
- - - - - - - - - - - - - - - - - - - - -
Between:
P (A child)
- - - - - - - - - - - - - - - - - - - - -
- - - - - - - - - - - - - - - - - - - - -
Jo Delahunty QC, Michelle Christie and Paul Froud (instructed by Bastian Lloyd Morris Solicitor Advocates) for the 1st Appellant father
 Darren Howe QC and Hannah Mettam (instructed by Towcester Family Law Practice) for the 2nd Appellant mother
Hannah Markham QC and Kate Grieve (instructed by Northamptonshire County Council) for the 1st Respondent local authority
Kate Branigan QC and Lianne Murphy(instructed by Borneo Martell Turner Coulson) for the 2nd Respondent child
Hearing dates: 22 March 2018
- - - - - - - - - - - - - - - - - - - - -
Judgment

Judgment: Re P (A Child) [2018] EWCA Civ 720.rtf