(Court of Appeal, Sir James Munby P, McFarlane, Lewison LJJ, 25 July 2017)
Public law children – Adoption – Reasoning – Whether judge's reasoning was deficient in analysis of why adoption was favoured over long-term fostering
 The appeal from care and placement orders was dismissed.
---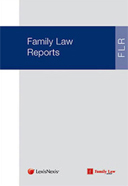 For comprehensive, judicially approved coverage of every important Family Division, Court of Appeal, Supreme Court and European courts case, subscribe to Family Law Reports.
Subscribers can

 

log in here.
Find out more
 or 
request a free 1-week trial
 of the Family Law Reports. Please quote: 100482. 
---
Neutral Citation Number: [2017] EWCA Civ 1121

Case No: B4/2017/0238/CCFMF

ON APPEAL FROM THE FAMILY COURT SITTING AT WATFORD
HIS HONOUR JUDGE WILDING
WD1600101


Royal Courts of Justice
Strand, London, WC2A 2LL
Date: 25 July 2017
Before:
THE PRESIDENT OF THE FAMILY DIVISION
LORD JUSTICE McFARLANE
and
LORD JUSTICE LEWISON
- - - - - - - - - - - - - - - - - - - - -

Between:
Re N-S (Children)
- - - - - - - - - - - - - - - - - - - - -
- - - - - - - - - - - - - - - - - - - - -

Elizabeth Isaacs QC and Hilary Pollock (instructed by Hecht Montgomery Solicitors) for the Appellant Father
Mark Twomey QC and John Church (instructed by Hertfordshire County Council) for the First Respondent Local Authority
Matthew Stott (instructed by Reeds Solicitors) for the Children's Guardian

Hearing date : 29 June 2017
- - - - - - - - - - - - - - - - - - - - -
Judgment Approved 

Judgment: Re N-S (Children) [2017] EWCA Civ 1121.rtf