(Court of Appeal, McCombe, King LJJ, 7 June 2018)

Public law children – Fact-finding hearing – Appeal – Concerns in gathering of evidence – Assessment of credibility of child

The appeal from the fact findings was allowed and the case was remitted for a fresh hearing.
---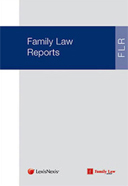 For comprehensive, judicially approved coverage of every important Family Division, Court of Appeal, Supreme Court and European courts case, subscribe to Family Law Reports.
Subscribers can

 

log in here.
Find out more
 or 
request a free 1-week trial
 of the Family Law Reports. Please quote: 100482. 
---
Case No: B4/2017/3368 and B4/2018/0336

Neutral Citation Number: [2018] EWCA Civ 1306
IN THE COURT OF APPEAL (CIVIL DIVISION)
ON APPEAL FROM THE CENTRAL FAMILY COURT
Her Honour Judge Wright
ZC17C00312

Royal Courts of Justice
Strand, London, WC2A 2LL
Date: 7 June 2018
Before :
LORD JUSTICE McCOMBE
and
LADY JUSTICE KING 
 - - - - - - - - - - - - - - - - - - - - -
IN RE M-Y (CHILDREN)
Between:
(1) C (2) S
Appellants
- and –
(1) A LOCAL AUTHORITY
(2) P, V, U and A (Children, by their Guardian)
Respondents
- - - - - - - - - - - - - - - - - - - - -
- - - - - - - - - - - - - - - - - - - - -
Alev Giz (instructed by David Tagg & Co Solicitors) for the First Appellant, 
Caitlin Ferris (instructed by FMW Law) for the Second Appellant
Susan George for the Local Authority, 
Sandra Fisher (instructed by Duncan Lewis) for the Children, by their Guardian
Hearing date: 17 April 2018
- - - - - - - - - - - - - - - - - - - - -
Judgment 

Judgments:
Re M-Y (Children) [2018] EWCA Civ 1306.rtf