(Court of Appeal, Sir James Munby, the President of the Family Division, Arden, Singh LJJ, 20 December 2017)
Private law children – Contact – Transgender father – Ultra-Orthodox Jewish family – Refusal to order direct contact - Appeal
The transgender father's appeal from a decision declining direct contact with his Ultra-Orthodox Jewish children was allowed.

---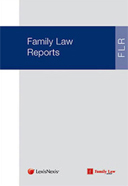 For comprehensive, judicially approved coverage of every important Family Division, Court of Appeal, Supreme Court and European courts case, subscribe to Family Law Reports.
Subscribers can

 

log in here.
Find out more
 or 
request a free 1-week trial
 of the Family Law Reports. Please quote: 100482. 
---
Case No: B4/2017/0571

Neutral Citation Number: [2017] EWCA Civ 2164
IN THE COURT OF APPEAL (CIVIL DIVISION)
ON APPEAL FROM THE FAMILY COURT
Sitting at Manchester
Mr JUSTICE PETER JACKSON
[2017] EWFC 4

Royal Courts of Justice
Strand, London, WC2A 2LL
Date: 20 December 2017
Before :
SIR JAMES MUNBY PRESIDENT OF THE FAMILY DIVISION
LADY JUSTICE ARDEN
and
LORD JUSTICE SINGH
- - - - - - - - - - - - - - - - - - - - -

In the matter of M (Children)

- - - - - - - - - - - - - - - - - - - - -
- - - - - - - - - - - - - - - - - - - - -
Ms Alison Ball QC and Mr Hassan Khan (instructed by Dawson Cornwell) for the appellant father
Mr Peter Buckley (instructed by Steinbergs Solicitors) for the respondent mother
Ms Frances Heaton QC and Ms Jane Walker (instructed by Alfred Newton Solicitors) for the children's guardian
Ms Karon Monaghan QC and Ms Sarah Hannett (instructed by Baker & McKenzie LLP) filed written submissions on behalf of the first intervener Stonewall Equality Limited
Ms Jane Rayson and Mr Andrew Powell (instructed by A City Law Firm) filed written submissions on behalf of the second intervener Keshet Diversity UK
Hearing date : 15 November 2017

- - - - - - - - - - - - - - - - - - - - -
Judgment 

Judgment: Re M (Children) [2017] EWCA Civ 2164.rtf