(Family Court, Cobb J, 24 May 2017)
Public law children – Adoption – Twins relinquished for adoption – Declaration of paternity – Need to notify extended family members
---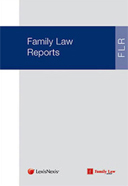 For comprehensive, judicially approved coverage of every important Family Division, Court of Appeal, Supreme Court and European courts case, subscribe to Family Law Reports.
Subscribers can

 

log in here.
Find out more
 or 
request a free 1-week trial
 of the Family Law Reports. Please quote: 100482. 
---
Care and placement orders were made in respect of twins relinquished for adoption.
The mature mother concealed her pregnancy until she was at 38 weeks' gestation. She was clear in her wish for the twins to be adopted at birth. She already had a child and felt unable to cope with twins. She named the father but he was unwilling to undergo DNA testing. The local authority applied for a declaration of parenthood, a declaration that it need not notify or assess extended family members and care and placement orders.
The court was not satisfied that there was sufficient evidence to make a declaration of parenthood, however, the father could be identified in life story work as the man the mother named as the father.
In the circumstances there were very few family members who could be considered as long-term carers and the mother had legitimate reasons for wishing the adoption to proceed discretely. Notifying other family members would be purposeless and infringe the mother's Art 8 rights.
Care and placements orders were granted.
---
THE HONOURABLE MR. JUSTICE COBB
This judgment was delivered in private. The judge has given leave for this version of the judgment to be published on condition that (irrespective of what is contained in the judgment) in any published version of the judgment the anonymity of the children and members of their family must be strictly preserved. All persons, including representatives of the media, must ensure that this condition is strictly complied with. Failure to do so will be a contempt of court.
Case No: LS17C00184
Neutral Citation Number: [2017] EWFC 31
IN THE FAMILY COURT
SITTING IN LEEDS


Coverdale House
East Parade
Leeds 
Date: 24/05/2017
Before :

THE HONOURABLE MR. JUSTICE COBB
- - - - - - - - - - - - - - - - - - - - -
Re M & N (Twins: Relinquished Babies: Parentage)
- - - - - - - - - - - - - - - - - - - - -
- - - - - - - - - - - - - - - - - - - - -
John Wood (a solicitor of JWP Solicitors) for the Local Authority
Jennifer Heckingbottom (a solicitor from Switalskis) for the Children's Guardian
The mother and father were neither present nor represented
Hearing dates: 9 May 2017

- - - - - - - - - - - - - - - - - - - - -
Judgment
Re M and N (Twins Relinquished Babies Parentage) [2017] EWFC 31.rtf