(Court of Appeal, McFarlane, King LJJ, 6 February 2018)
Private law children – Contact – Procedure – Fact-finding – Order for no contact – Whether a fact-finding hearing should have been directed
The father's appeal from the decision ordering no contact with the three children was allowed but the judge's order was reaffirmed.
---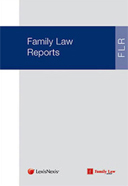 For comprehensive, judicially approved coverage of every important Family Division, Court of Appeal, Supreme Court and European courts case, subscribe to Family Law Reports.
Subscribers can

 

log in here.
Find out more
 or 
request a free 1-week trial
 of the Family Law Reports. Please quote: 100482. 
---
Neutral Citation Number: [2018] EWCA Civ 115

Case No: B4/2016/3559/CCFMF
IN THE COURT OF APPEAL (CIVIL DIVISION)
ON APPEAL FROM MANCHESTER COUNTY AND FAMILY COURT
HIS HONOUR JUDGE ALLWEIS


Royal Courts of Justice
Strand, London, WC2A 2LL
Date: 06/02/2018
Before :
LORD JUSTICE McFARLANE
and
LADY JUSTICE KING
J (CHILDREN)
- - - - - - - - - - - - - - - - - - - - -
- - - - - - - - - - - - - - - - - - - - -
The Appellant Father (in person assisted by a McKenzie Friend)
The Respondent Mother not attending
The representatives of the child (NYAS) not attending
Hearing date : 11 October 2017
- - - - - - - - - - - - - - - - - - - - -
Judgment Approved

Judgment: 
Re J (Contact Orders Procedure) [2018] EWCA Civ 115.rtf