(Family Court, Peter Jackson J, 23 January 2017)

Public law children – Care proceedings – Unaccompanied asylum-seeking children – Jurisdiction – Applications for care orders

Care orders were granted in respect of the two young unaccompanied asylum-seeking children.
---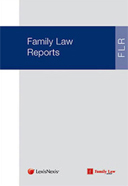 For comprehensive, judicially approved coverage of every important Family Division, Court of Appeal, Supreme Court and European courts case, subscribe to Family Law Reports.
Subscribers can

 

log in here.
Find out more
 or 
request a free 1-week trial
 of the Family Law Reports. Please quote: 100482. 
---
Neutral Citation Number: [2017] EWFC 44

Case No. PR16C00567
THE FAMILY COURT AT LIVERPOOL


35 Vernon Street
Liverpool
Date: Monday, 23rd January 2017
Before: 

THE HONOURABLE MR JUSTICE PETER JACKSON
- - - - - - - - - - - - - - - - - - - - -
In the matter of:
Re: J (CHILD REFUGEES)
- - - - - - - - - - - - - - - - - - - - -
Transcribed from the Official Recording by
AVR Transcription Ltd
Turton Suite, Paragon Business Park, Chorley New Road, Horwich, Bolton, BL6 6HG
Telephone: 01204 693645 - Fax 01204 693669
- - - - - - - - - - - - - - - - - - - - -
Counsel for the Local Authority: MR. MICHAEL JONES

Counsel for the Children: MS JADE ABRAHAM

- - - - - - - - - - - - - - - - - - - - -
JUDGMENT APPROVED BY THE COURT 


Judgment: Re J (Child Refugees) [2017] EWFC 44.rtf