Diana Lowe QC, Co-Lead of the RFJS and Principal of 'Re-Imagining Justice'
The Reforming the Family Justice System (RFJS) initiative is a multi-year, multi-sector collaboration designed to effect system-wide change in the family justice system in Alberta, Canada. This systems transformation effort responds to calls for a culture shift or a paradigm shift by Canada's national Action Committee on Access to Justice. Convenors from the Courts, the Ministry of Justice, the Law Society and more recently from a Family & Community Support Service and Native Counselling Services of Alberta, have convened this effort to re-imagine Alberta's family justice system. The paradigm shift has been made possible by bringing concern for family justice reform together with the evidence of brain science, including Adverse Childhood Experiences (ACEs) and resilience. The RFJS seeks to shift the focus in family justice matters away from adversarial, legal responses, to improving family well-being. This involves a shift in the mental model and culture for the family justice system, and a licence to innovate. It is a cross-sector collaboration which is breaking down silos and making supports available to assist families with the social, relationship, parenting and financial issues that arise in family matters. The outcome collaborators are seeking is family well-being, which they describe as 'Helping Families Thrive'.
---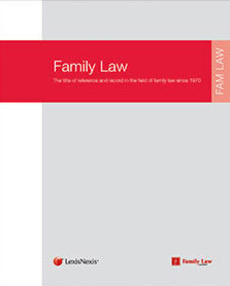 The full article will be published in the September issue of
Family Law
.
Find out more or request a free 1-week trial of Family Law journal. Please quote: 100482.
---