(Family Division, Baker J, 7 July 2017)

Medical treatment – Non-accidental injuries – Removal of ventilation – Police presence at child's bedside – Reporting restrictions

Declarations were granted that it was lawful for the child to be extubated, that the reporting restrictions should continue and an agreement was reached as to the police presence in the child's room. 
---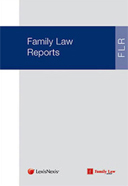 For comprehensive, judicially approved coverage of every important Family Division, Court of Appeal, Supreme Court and European courts case, subscribe to Family Law Reports.
Subscribers can

 

log in here.
Find out more
 or 
request a free 1-week trial
 of the Family Law Reports. Please quote: 100482. 
---
This judgment was delivered in public but it is ordered that in any published version of the judgment no person other than the advocates or the solicitors instructing them and other persons named in this version of the judgment shall be identified by name or location and that in particular the anonymity of the child and members of his family must be strictly preserved.
Case No: FD17P00312
Neutral citation number [2017] EWHC 2991 (Fam)

IN THE HIGH COURT OF JUSTICE
FAMILY DIVISION

IN THE MATTER OF THE SENIOR COURTS ACT 1981
AND IN THE MATTER OF HK (SERIOUS MEDICAL TREATMENT) (No.3)


Courtroom No. 45
High Court of Justice Family Division
Royal Courts of Justice
Strand
London
WC2A 2LL
Friday, 7th July 2017
Before:
THE HONOURABLE MR JUSTICE BAKER
- - - - - - - - - - - - - - - - - - -
B E T W E E N:
AN NHS HOSPITAL TRUST
Applicant
And
GM (1)
DK (2)
HK (by his children's guardian) (3)
Respondents
- - - - - - - - - - - - - - - - - - -
Transcript from a recording by Ubiqus
61 Southwark Street, London SE1 0HL
Tel: 020 7269 0370
legal@ubiqus.com

- - - - - - - - - - - - - - - - - - -
Peter Boyce (solicitor, the NHS Trust) for the Applicant
Edward Devereux QC and Edward Bennett (instructed by Dawson Cornwell) for the First Respondent mother
Deirdre Fottrell QC and Alev Giz (instructed by Philcox Gray) for the Second Respondent father
Melanie Carew (Cafcass Legal) for the child, by his children's guardian
George Thomas (instructed by the Metropolitan Police Solicitor) for the police
Hearing dates: 6th and 7th July 2017

- - - - - - - - - - - - - - - - - - -
JUDGMENT

Judgment: Re HK (Serious Medical Treatment)(No 3) [2017] EWHC 2991 (Fam).rtf