(Court of Appeal, Moylan, Peter Jackson and Asplin LJJ, 8 March 2018)
Public law children – Care orders – Appeal – Procedure – Judgment failed to provide an analysis of the welfare checklist
The mother's appeal from a child arrangements order for one child to live with the father and care orders with a care plan for the two other children to remain in foster care was dismissed.
---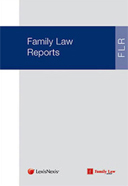 For comprehensive, judicially approved coverage of every important Family Division, Court of Appeal, Supreme Court and European courts case, subscribe to Family Law Reports.
Subscribers can

 

log in here.
Find out more
 or 
request a free 1-week trial
 of the Family Law Reports. Please quote: 100482. 
---
Case No: B4/2017/3178
Neutral Citation Number: [2018] EWCA Civ 386

IN THE COURT OF APPEAL (CIVIL DIVISION)
ON APPEAL FROM THE CENTRAL FAMILY COURT
HHJ Tolson

Royal Courts of Justice
Strand, London, WC2A 2LL
Date: 08/03/2018
Before:
LORD JUSTICE MOYLAN
LORD JUSTICE PETER JACKSON
and
LADY JUSTICE ASPLIN
- - - - - - - - - - - - - - - - - - - - -
Re DAM (Children)
- - - - - - - - - - - - - - - - - - - - -
- - - - - - - - - - - - - - - - - - - - -
Mark Twomey QC and David Boyd (instructed by Duncan Lewis Solicitors) for the Mother
Alison Ball QC and Nerys Wyn Rees (instructed by Legal Department) for the Local Authority
Catherine Piskolti (instructed by Matwala Vyas LLP) for the Father of M
Michael Bailey(instructed by Myra Pieri & Co Solicitors) for the Children's Guardian
Hearing date: 22 February 2018
- - - - - - - - - - - - - - - - - - - - -
Judgment
Judgment: 
Re DAM (Children) [2018] EWCA Civ 386.rtf