(Court of Appeal, Underhill VP, Floyd, Peter Jackson LJJ, 20 September 2018)
Public law children – Adoption – Fostering – Three young children in foster care – Refusal to grant a placement for adoption order – Appeal – Whether the benefits of adoption had been considered
The local authority appeal from a decision that the three young children should remain in foster care rather than be adopted was allowed and the case remitted for reconsideration.

---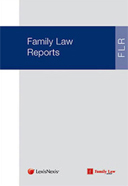 For comprehensive, judicially approved coverage of every important Family Division, Court of Appeal, Supreme Court and European courts case, subscribe to Family Law Reports.
Subscribers can

 

log in here.
Find out more
 or 
request a free 1-week trial
 of the Family Law Reports. Please quote: 100482. 
---
Neutral Citation Number: [2018] EWCA Civ 2042

Case No: B4/2018/1788
IN THE COURT OF APPEAL (CIVIL DIVISION)
ON APPEAL FROM STOKE-ON-TRENT COMBINED COURT
Recorder Clark
SQ17C00285

Royal Courts of Justice
Strand, London, WC2A 2LL
Date: 20 September 2018
Before :
LORD JUSTICE UNDERHILL
Vice-President of the Court of Appeal (Civil Division)
LORD JUSTICE FLOYD
and
LORD JUSTICE PETER JACKSON
- - - - - - - - - - - - - - - - - - - - -
Between :
Re: B-P (Children) [Adoption or Fostering]
- - - - - - - - - - - - - - - - - - - - -
- - - - - - - - - - - - - - - - - - - - -
Nicholas Goodwin QC and Christopher Adams (instructed by Staffordshire County Council) for the Appellant local authority
Clare Dillon (instructed by David Foster & Co. Solicitors) for the Mother
Michael Jones (instructed by Moseleys Solicitors) for the Father
Nina Bache (instructed by McGuinness Legal) for the Children
Hearing date: 6 September 2018
- - - - - - - - - - - - - - - - - - - - -
Judgment Approved

Judgment:
Re B-P (Children Adoption or Fostering) [2018] EWCA Civ 2042.rtf