(Court of Appeal, Sir James Munby, the President of the Family Division, Davis, Underhill LJJ, 17 January 2018)

Care proceedings – Adoption – Placement with adopters of sibling or father's cousin – Appeal

The appeal from the decision to place the child with the sibling's adopters was dismissed.

---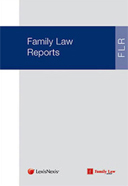 For comprehensive, judicially approved coverage of every important Family Division, Court of Appeal, Supreme Court and European courts case, subscribe to Family Law Reports.
Subscribers can

 

log in here.
Find out more
 or 
request a free 1-week trial
 of the Family Law Reports. Please quote: 100482. 
---
Neutral Citation Number: [2018] EWCA Civ 20

Case No: B4/2017/2501
IN THE COURT OF APPEAL (CIVIL DIVISION)
ON APPEAL FROM THE FAMILY COURT
Sitting at Leicester
Her Honour Judge GEORGE


Royal Courts of Justice
Strand, London, WC2A 2LL
Date: 17 January 2018
Before :

SIR JAMES MUNBY PRESIDENT OF THE FAMILY DIVISION
LORD JUSTICE DAVIS
and
LORD JUSTICE UNDERHILL
- - - - - - - - - - - - - - - - - - - - -

In the matter of B (A Child)

- - - - - - - - - - - - - - - - - - - - -
- - - - - - - - - - - - - - - - - - - - -
Ms Sarah Morgan QC and Ms Olivia Magennis (instructed by R P Robinson Solicitors) for the appellant (B's father) 
Ms Charlotte Georges (instructed by Nelsons) for B's mother
Ms Deirdre Fottrell QC and Ms Louise MacLynn (instructed pro bono by Emery Johnson Astills) for father's cousin, I, and her partner R
Mr Martin Kingerley (instructed by the local authority) for the local authority
Mr Will Tyler QC and Ms Emily James (instructed by Straw and Pearce) for B's children's guardian
Hearing date : 23 November 2017
- - - - - - - - - - - - - - - - - - - - -
Judgment Approved