(Family Court, Peter Jackson J, 26 July 2017)
Private law children – Relocation – Contact – Wishes of young person
The father's application to relocate with the 14-year-old was refused.

---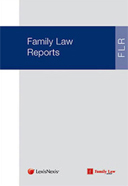 For comprehensive, judicially approved coverage of every important Family Division, Court of Appeal, Supreme Court and European courts case, subscribe to Family Law Reports.
Subscribers can

 

log in here.
Find out more
 or 
request a free 1-week trial
 of the Family Law Reports. Please quote: 100482. 
---
IMPORTANT NOTICE
This judgment/letter was handed down after a hearing in private. It can be reported, provided that the family members are not identified. Failure to comply with the order may be a contempt of court.
Case No. MA17P00163

Neutral Citation Number: [2017] EWFC 48
IN THE FAMILY COURT


26 July 2017
Before:
THE HONOURABLE MR JUSTICE PETER JACKSON

- - - - - - - - - - - - - - - - - - - -

Between:

A Father
Applicant

-and-

 A Mother and Stepfather

-and-

A Young Person
Respondents
- - - - - - - - - - - - - - - - - - - -

The Father represented himself
The Mother and Stepfather represented themselves
The Young Person was represented by his solicitor
- - - - - - - - - - - - - - - - - - - - -

Re A : Letter to a Young Person

- - - - - - - - - - - - - - - - - - - - -
JUDGMENT

Judgment: 
Re A (Letter to a Young Person) [2017] EWFC 48.rtf