(Family Court, Moor J, 17 March 2017)
Financial remedies – Needs-based claim – Cross-allegations of misconduct – Husband sought financial provision – Extensive litigation
---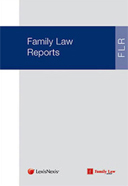 For comprehensive, judicially approved coverage of every important Family Division, Court of Appeal, Supreme Court and European courts case, subscribe to Family Law Reports.
Subscribers can

 

log in here.
Find out more
 or 
request a free 1-week trial
 of the Family Law Reports. Please quote: 100482. 
---
IMPORTANT NOTICE
This judgment was delivered in private. The judge has given leave for this version of the judgment to be published on condition that (irrespective of what is contained in the judgment) in any published version of the judgment no person other than the advocates or the solicitors instructing them and other persons named in this version of the judgment may be identified by name or location and that, in particular, the anonymity of the parties and their children must be strictly preserved. All persons, including representatives of the media, must ensure that this condition is strictly complied with. Failure to do so will be a contempt of court and may be punished by a fine or imprisonment of up to two years.


Neutral Citation Number: 2017 EWFC 33

IN THE FAMILY COURT


Royal Courts of Justice
Strand, London, WC2A 2LL
Date: 17th March 2017 
Before :

Mr Justice Moor
- - - - - - - - - - - - - - - - - - - - -
Between:
R
Applicant
-and-
B
First Respondent

-and-
Capita Trustee Services Ltd
Second Respondent
-and-

Hawksford Trustees Jersey Ltd
Third Respondent
-and-
X
Fourth Respondent

-and-
Y
Fifth Respondent

- - - - - - - - - - - - - - - - - - - - -
- - - - - - - - - - - - - - - - - - - - -
Mr Charles Howard QC and Mr Alexander Chandler for the Applicant
Mr Nigel Dyer QC and Mr Nicholas Anderson for the First Respondent
Mr Giles Richardson for the Second and Third Respondents
Ms Sarah Phipps for the Fourth and Fifth Respondents
Hearing dates: 27th February to 17th March 2017 

- - - - - - - - - - - - - - - - - - - - -
JUDGMENT

Judgment:
R v B and Capita Trustees [2017] EWFC 33.rtf