(Supreme Court, Lady Hale, Lord Kerr, Lord Wilson, Lord Reed, Lady Black, 27 June 2018)
Marriage and divorce – Civil Partnership Act 2004 – Whether the bar on different sex couples entering into civil partnerships breached their rights under Article 14 and Article 8 ECHR
Appeal allowed; held that the Civil Partnership Act 2004 is incompatible with the ECHR.

---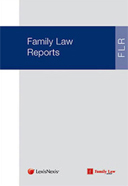 For comprehensive, judicially approved coverage of every important Family Division, Court of Appeal, Supreme Court and European courts case, subscribe to Family Law Reports.
Subscribers can

 

log in here.
Find out more
 or 
request a free 1-week trial
 of the Family Law Reports. Please quote: 100482. 
---
Trinity Term
[2018] UKSC 32
On appeal from: [2017] EWCA Civ 81
JUDGMENT
R (on the application of Steinfeld and Keidan) (Appellants) v Secretary of State for International Development (in substitution for the Home Secretary and the Education Secretary) (Respondent)
before

Lady Hale, President
Lord Kerr
Lord Wilson
Lord Reed
Lady Black
JUDGMENT GIVEN ON
27 June 2018
Heard on 14 and 15 May 2018


Judgment: R (Steinfeld and Keidan) v SSID [2018] UKSC 32.docx