(Queen's Bench Division, Charles J, 8 May 2017)
Public law children – Adoption – Judicial review – Procedural unfairness
The application for judicial review was allowed.
Care and placement orders were made in respect of the 6-year-old child on the basis of a care plan for adoption. The mother's application for permission to appeal was dismissed. The child was placed for adoption. The mother now sought judicial review of that decision on the grounds of procedural unfairness. She argued that the local authority had failed to keep her informed of key steps in the process, namely, of their intention to place the child with prospective adopters and of the placement timetable. Furthermore, the local authority placed the child in the knowledge that the mother intended to apply for permission under s 24 of the Adoption and Children Act 2002.
The application was allowed. The decision to place the child was quashed.
In this instance the mother had established that the local authority had not acted in accordance with Re F (Placement Order) [2008] 2 FLR 550 in a fair manner. Therefore, it had acted unlawfully in having made the decision to place the child, and in having placed her for adoption in pursuance of that decision and the placement order. Common sense and straightforwardness required the local authority to inform the mother that unless she issued an application under s 24 for permission to revoke the placement order by a certain date, it would proceed with the placement plan in placing the child.
Charles J suggested it might be sensible for the Family Procedure Rules Committee to consider providing guidance on what information should be given to parties involved in the adoption process and ways that it could be challenged.
---
Neutral Citation Number: [2017] EWHC 1041 (Admin)


Case No: CO/6536/2016
IN THE HIGH COURT OF JUSTICE
QUEEN'S BENCH DIVISION


Royal Courts of Justice
Strand, London, WC2A 2LL
Date: 08/05/2017
Before:
Mr Justice Charles
.............................
Between:
The Queen on the application of EL
Claimant

- and -

Essex County Council
Defendant

- and –

DL
Interested Party
.............................
Miss Ashley Thain (instructed by Sparlings) for the Claimant
Nicholas O'Brien (instructed by Essex County Council) for the Defendant

Hearing date: 28 April 2017
.............................
Approved Judgment
I direct that pursuant to CPR PD 39A para 6.1 no official shorthand note shall be taken of this Judgment and that copies of this version as handed down may be treated as authentic.
.............................
MR JUSTICE CHARLES
R (on the application of EL) v Essex County Council [2017] EWHC 1041 (Admin).rtf
---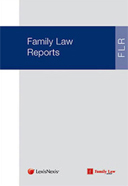 For comprehensive, judicially approved coverage of every important Family Division, Court of Appeal, Supreme Court and European courts case, subscribe to Family Law Reports.
Subscribers can

 

log in here.
Find out more
 or 
request a free 1-week trial
 of the Family Law Reports.