The latest issue of Family Law Reports has been published, featuring the following reports:
Re A Ward of Court [2017] EWHC 1022 (Fam), [2017] 2 FLR 1515

DB v PB (Prenuptial Agreement: Jurisdiction) [2016] EWHC 3431(Fam), [2017] 2 FLR 1540

Hand and Another v George and Another [2017] EWHC 533 (Ch), [2017] 2 FLR 1565

Re K (Reciprocal Enforcement of Maintenance Orders: Power ofMagistrates to Issue Bench Warrant) [2017] EWFC 27, [2017] 2 FLR 1602

SW and TW (Human Rights Claim: Procedure) (No 1) [2017] EWHC 450(Fam), [2017] 2 FLR 1609

Re W (A Child) (Adoption: Delay) [2017] EWHC 829 (Fam), [2017] 2FLR 1628

Re W (A Child) (No 3) [2017] EWHC 1032 (Fam), [2017] 2 FLR 1714

Re X and Y (Secure Accommodation: Inherent Jurisdiction) [2016]EWHC 2271 (Fam) - [2017] 2 FLR 1717
---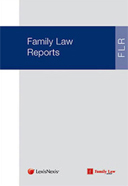 For comprehensive, judicially approved coverage of every important Family Division, Court of Appeal, Supreme Court and European courts case, subscribe to Family Law Reports.
Subscribers can

 

log in here.
Find out more
 or 
request a free 1-week trial
 of the Family Law Reports. Please quote: 100482. 
---