The October issue of Family Law is published. Articles include:
Is it time for yet another Mental Health Act? Lady Hale
Human rights and the law of nullity: Akhter v Khan Dr Claire Fenton-Glynn
Reflections on 40 years of IVF and its impact on the family Ruth Deech
Understanding the current use of s 20 Judith Masson
Parental alienation: in search of evidence Julie Doughty, Nina Maxwell and  Tom Slater
Pleading and pursuing a behaviour petition after Owens David Burrows
Covert recordings in proceedings relating to children Katherine Res  Pritchard and Kate Williams
Widowed parent benefits for unmarried mother Maeve O'Higgins
Practice Direction 36J – Pilot Scheme: Transparency (Attendance at Hearings in Private).
---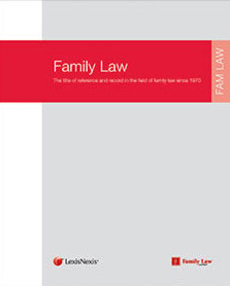 Family Law is the title of reference and record in the field of family law since 1970 and is the leading practitioner journal compiled by experts for family law professionals. The journal features the latest official guidances, in-depth case analysis and topical articles.
Family Law journal is available as either a print or online subscription.

 Find out more or request a free 1-week trial of Family Law journal. Please quote: 100482.
---