The March issue of Family Law 2018 is published today. Articles include:
The Weight of Memory – Children's Rights in a Changing World The Hon Mr Justice MacDonald

Care (proceedings) in crisis Noel Arnold

18th View on financial remedies: Cinderella is finally to go to the ball Tony Roe

Deprivation of liberty of children: Re A-F Her Honour Nasreen Pearce

'The stool-pigeon, the eavesdropper and the concealed observer': the need for guidance in respect of covert recordings in family proceedings Dewinder Birk

Heartache, Hart-break and equal shares Gwyn Evans

Relocation: the holistic approach restored Damian Garrido QC and Dr Rob George

Harnessing administrative data for family justice research and practice Matthew A Jay, Jenny Woodman, Ruth Gilbert and Karen Broadhurst

Capacity to consent: mental capacity and understanding David Burrows

Fatherhood without consent: the responsibility of a fertility clinic Mary Welstead

New opportunities in collaborative practice Jo Edwards, Amanda Sandys and Jamie Gaw

Quintessentially transparent? Lucy Reed

Four Jurisdictions Family Law Conference Graeme Fraser

Legal aid and the 1996 Hague Convention: an oversight in LASPO Anne-Marie Hutchinson OBE QC (Hon) and Michael Gration
---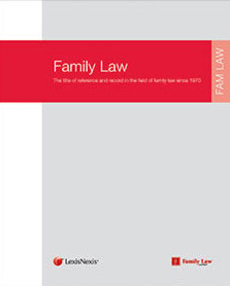 Family Law is the title of reference and record in the field of family law since 1970 and is the leading practitioner journal compiled by experts for family law professionals. The journal features the latest official guidances, in-depth case analysis and topical articles.
Family Law journal is available as either a print or online subscription.

Find out more or request a free 1-week trial of Family Law journal.