The June issue of Family Law is published. Articles include:
Embracing change David James Lister
The Nuffield Family Justice Observatory: taking it forward Nuffield Family Justice Observatory Development Team
The decision making process: Re DAM Kirsty Richards
Separated children in children proceedings: thinking outside the box Graeme Fraser
Male circumcision vs female genital mutilation: two sides of the same coin? Dr Claire Fenton-Glynn
The Family Bar in a digital world Sir James Munby
Contact: a point of view Sir Andrew McFarlane
EU Citizenship free movement rights and same-sex couples Frances Hamilton
Brussels II, Brexit and beyond Alex Curran
Criminalising non-compliance with marriage formalities? Rebecca Probert 
Stale arrears: era of enlightenment? Grace Lawrence
Surrogacy Update 2015–2018: the dominoes have fallen: Part 1 Mary Welstead
Trust corporations as deputies for P: holding to account Her Honour Nasreen Pearce and District Judge Sue Jackson
The Child Maintenance Service: a step backwards Jonathan Tod
Applications to stop notification of care proceedings to parents: local authority duties Matthew Stott
A trial for change: the experiences and dilemmas of a multidisciplinary expert witness team Margaret DeJong and Marta Neil
Mediation: screening for safe practice Tony Whatling 
Press reporting on family courts Julie Doughty
Interim capital relief Rebecca Dziobon
Guidance: parents with learning difficulties David Burrows
Sex and marriage: no concern of the judges or of the State Mary Welstead
---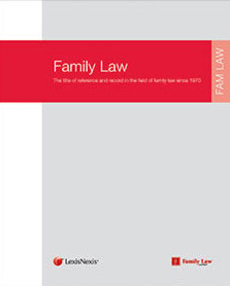 Family Law is the title of reference and record in the field of family law since 1970 and is the leading practitioner journal compiled by experts for family law professionals. The journal features the latest official guidances, in-depth case analysis and topical articles.
Family Law journal is available as either a print or online subscription.

 Find out more or request a free 1-week trial of Family Law journal. Please quote: 100482.
---