The July issue of Family Law is out now. Articles include:
Radicalisation and the Family Courts Damian Woodward-Carlton QC
Jurisdiction and habitual residence: those fifth and sixth indents! David Hodson and Stuart Clark
Recognition of Parentage – the first advisory opinion from the ECtHR Nuala Mole and Bianca Valperga
The perils of pensions Philip Way and Kay Masters
Relationship breakdown and the law David Burrows
International injunctions: problems, problem-makers and Panzers Max Lewis
Who should be involved in public law proceedings? Ann Chavasse
Pre-nups and mid-nups – some thoughts on best practice Simon Bruce
---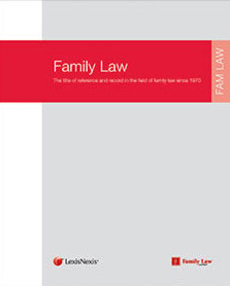 Family Law is the title of reference and record in the field of family law since 1970 and is the leading practitioner journal compiled by experts for family law professionals. The journal features the latest official guidances, in-depth case analysis and topical articles.
Family Law journal is available as either a print or online subscription.

Find out more or request a free 1-week trial of Family Law journal. Please quote: 100482.
---