The July issue of

 
Family Law
 

is published. Articles include:
Care crisis: FDAC Sir James Munby 
Applying for exceptional case funding Katy Watts and Rosemary Hunter
Pre-marital agreements: Versteegh Henry Hood
The View from the Bar Rob George 
Private family law reform Lady Hale 
What is family law? – securing social justice for children and young people Sir James Munby 
Care crisis review Sir Andrew McFarlane
Financial remedy update: Summer 2018 Grant Howell, Martin Loxley and Andrew Newbury
Surrogacy Update 2015–2018: the dominoes have fallen: Part 2 Mary Welstead 
Court of Protection update: Summer 2018 Her Honour Nasreen Pearce and District Judge Sue Jackson 
Vulnerable clients and the family justice system Part 2: Do the courts respect diversity through disability or unfairly judge it when it comes to parenthood?Professor Jo Delahunty QC
Setting aside an order: the service process: Wilmot v Maughan Ashley Murray
Setting aside executory orders: a terrible fate for Thwaite? Michael Horton
The strange arithmetic of deferred charges Melanie Craig
The without prejudice rule in family proceedings David Burrows
Local authority update: Summer 2018: adoptive placements and withdrawal of proceedings Emma Kendall
Practice Guidance: Standard children and other orders Sir James Munby
Mending the MIAMs process Philippa Johnson and Neil Robinson
A fresh approach towards nuptial agreements? Jo Edwards, Amanda Sandys and Jamie Gaw
Reporting restrictions and accountability in the family courts Lucy Reed
Rights to grandparents Tony Roe
For richer and forever: is spousal maintenance a meal ticket for life? Malvina Peci
---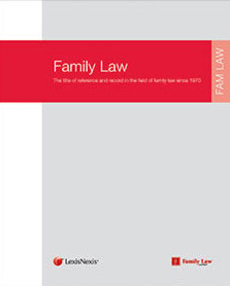 Family Law is the title of reference and record in the field of family law since 1970 and is the leading practitioner journal compiled by experts for family law professionals. The journal features the latest official guidances, in-depth case analysis and topical articles.
Family Law journal is available as either a print or online subscription.

 Find out more or request a free 1-week trial of Family Law journal. Please quote: 100482.
---