The August issue of

 
Family Law
 

is published. Articles include:
A tribute to Sir James Munby – the people's president Christina Blacklaws

Civil partnerships in an era of human rights incompatibility: Steinfeld and Keidan Scott Halliday

The end of corporal punishment? Dr Claire Fenton-Glynn

When a journalist comes to court – lower those hackles Louise Tickle

Openness and privacy in family proceedings Lady Hale

Restoring confidence in family justice Sir Andrew McFarlane

Meal tickets for life? The need for evidence-based evaluation of financial remedies law Emma Hitchings and Joanna Miles

Facts and figures: grounds for divorce since the 1969 Divorce Reform Act in England and Wales John Haskey

Children case update: public law Luke Eaton

Vulnerable clients and the family justice system Part 3: How can a vulnerable parent be helped to ensure their voice is heard in court? Professor Jo Delahunty QC

Making sure lay participants understand the court's decision: what is expected of judges? Professor Penny Cooper

Male victims of domestic abuse: the difficulties faced in court proceedings Kirsty Richards

Conversation pieces: reflections in family mediation: Part 1: 'Open the door . . .' Neil Robinson

Family mediation after LASPO: the accessibility and relevance of public information Rachael Blakey

Correcting inaccuracy by the mainstream media in reporting of family court cases Lucy Reed

Relocation, relocation, relocation Alex Curran

The absurdity of the law is plain: AB v CD Mary Welstead
---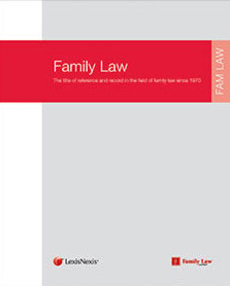 Family Law is the title of reference and record in the field of family law since 1970 and is the leading practitioner journal compiled by experts for family law professionals. The journal features the latest official guidances, in-depth case analysis and topical articles.
Family Law journal is available as either a print or online subscription.

 Find out more or request a free 1-week trial of Family Law journal. Please quote: 100482.
---