The April issue of Family Law is published today. Articles include:
Why pro bono?' Alex Laing
'Five years of legal aid drought – the legacy of LASPO' Paul Magrath
'Coram Children's Legal Centre: legal aid for children after LASPO' David Burrows
'Repudiatory retention: Re C' Maeve O'Higgins
'Accommodation needs of vulnerable young families' Connor Johnston
'HMCTS reform divorce project' Tony Roe
'Revoking adoption: Re J (Adoption: Appeal)' Dr Claire Fenton-Glynn 
'Welfare and discrimination: Re M' John Eekelaar 
'Vulnerable clients and the family justice system: Part 1: Disability and the parent' Professor  Jo Delahunty QC 
'Autistic individuals and the family justice system' Anna Remington and Rob George
'Excluding different-sex couples from registered and civil partnerships: discrimination and proportionality' Rebecca Kelly and Alexia Place 
'Thorne v Kennedy: why Australia's decision on prenups is important for English law' Dr Sharon Thompson 
'Responsible family asset protection: lessons from Asia's HK$1.2 billion divorce award' Marcus Dearle 
'How should the courts respond to the public discussion on the changing nature of adoption?' Sarah Phillimore 
'Protection from molestation: orders and legal aid' David Burrows
'Dementia and the capacity to marry' Abigail Bond and Holly Mieville-Hawkins 
'Local authority update: Spring 2018: welfare and prospective adoptive placements' Emma Kendall 
'President's Guidance: Jurisdiction of the family court' Sir James Munby
'President's Guidance: Case management and mediation of international child abduction proceedings' Sir James Munby
'New kid on the block: co-parent coaching' Marcie Shaoul
'Why words matter – the debate about "disclosure"' Lucy Reed 
'Fact finding: Re J (Contact Orders)'  

Douglas Allen



---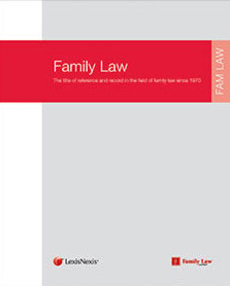 Family Law is the title of reference and record in the field of family law since 1970 and is the leading practitioner journal compiled by experts for family law professionals. The journal features the latest official guidances, in-depth case analysis and topical articles.
Family Law journal is available as either a print or online subscription.
Find out more or request a free 1-week trial of Family Law journal.