Brian Cantwell, The Family Conflicts Consultation Service
Brian Cantwell records that the President's Private Law Working Group has identified the need for a more comprehensive set of services for families going through divorce or separation.
His proposition is that family lawyers are best placed to offer their clients access to such provision, with the evidence being that they need to be provided in-house, by way of a well-informed interdisciplinary partnership.
He stresses that such a one-stop-shop model needs to identify and respond to the distinctive needs of referred clients, rather than offering a one-size-fits-all service, with both family mediation and collaborative law providing a template for this approach. He goes on to outline three 'projects' developed with family lawyers and colleagues in his locality:
Assessing clients' 'emotional readiness' for mediation – a 'gap' in service long recognised by researchers. He uses case material to describe the partnership with the lawyer/mediator in practice.

His 'Emotional MOT' model involves the law firm concerned offering a one hour consultation on personal/emotional matters to all new clients.
Finally he describes an initiative that involves him working, with the support of the Court and lawyers, with clients 'stuck' in long-running proceedings. An adjournment is agreed (3 to 6 months typically) for conflict work to be carried out with parents in the form of what is called 'a Therapeutic Break'.
---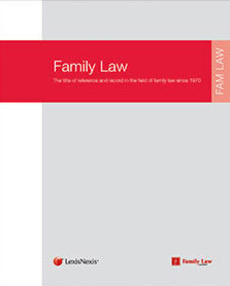 The full article will be published in the July issue of
Family Law
.
Find out more or request a free 1-week trial of Family Law journal. Please quote: 100482.
---