Kate Armstrong, Dere Street Barristers
Now that the dust has settled after Waggott v Waggott [2018] EWCA Civ 727, [2018] 2 FLR 406 this article reviews the recent series of reported cases dealing with the identification of non-matrimonial assets and the limits to the sharing principle. The article considers the application of the principles to three interrelated themes raised in the recent case law:
(1) Post-separation income (Waggott (above); O'Dwyer v O'Dwyer [2019] EWHC 1838 (Fam), [2019] 2 FLR 1020)
(2) Passive growth (IX v IY (Financial Remedies: Unmatched Contributions) [2018] EWHC 3053 (Fam), [2019] 2 FLR 449)
(3) Post-separation accruals (C v C (Post-Separation Accrual) [2018] EWHC 3186 (Fam), [2019] 1 FLR 939)
Two points emerge: First, a willingness to identify non-matrimonial property and to protect it from the sharing principle, and second a flexibility as to whether a broad brush or a more arithmetical approach is appropriate in identifying what of the available assets should be shared and if so, how.
---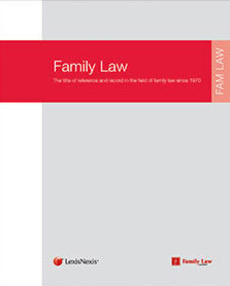 The full article will be published in the January issue of Family Law.
Find out more or request a free 1-week trial of Family Law journal. Please quote: 100482.