(Family Division, Theis J, 9 March 2018)
Jurisdiction – BIIR – Recognition – French divorce – Subsequent English decree of divorce – Appeal from recognition of French order
The wife's appeal from the decision recognising the French divorce was dismissed and the husband application to set aside the English decrees was allowed.
---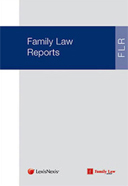 For comprehensive, judicially approved coverage of every important Family Division, Court of Appeal, Supreme Court and European courts case, subscribe to Family Law Reports.
Subscribers can

 

log in here.
Find out more
 or 
request a free 1-week trial
 of the Family Law Reports. Please quote: 100482. 
---
Neutral Citation Number: [2018] EWHC 484 (Fam)

Case No: 2017/0153
IN THE HIGH COURT OF JUSTICE
FAMILY DIVISION
ON AN APPEAL FROM DISTRICT JUDGE ROBINSON



Royal Courts of Justice
Strand, London, WC2A 2LL
Date: 09/03/2018
Before:
MRS JUSTICE THEIS
- - - - - - - - - - - - - - - - - - - - -
Between:
Doh Victorine Piot Mensah 
Appellant

- and -
Dominique Mensah
Respondent
- - - - - - - - - - - - - - - - - - - - -
- - - - - - - - - - - - - - - - - - - - -
Appellant Appeared in Person
Ms Jennifer Perrins (instructed by Osbornes Solicitors) for the Respondent
Hearing date: 7th February 2018
Judgment: 9th March 2018
- - - - - - - - - - - - - - - - - - - - -
Judgment Approved
Judgment: 
Mensah v Mensah [2018] EWHC 484 (Fam).rtf