(Family Division, MacDonald J, 5 July 2017)
Public Law Children – Case management – Guidelines for Judges Meeting Children who are Subject to Family Proceedings
In a case where there had been breaches of case management orders and PD27A the local authority solicitor was summoned to attend court and explain those failures.
---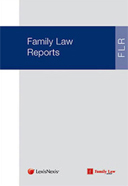 For comprehensive, judicially approved coverage of every important Family Division, Court of Appeal, Supreme Court and European courts case, subscribe to Family Law Reports.
Subscribers can

 

log in here.
Find out more
 or 
request a free 1-week trial
 of the Family Law Reports. Please quote: 100482. 
---
Case No: ZW16C00060

Neutral Citation Number: [2017] EWHC 2452 (Fam)

IN THE HIGH COURT OF JUSTICE
FAMILY DIVISION


Royal Courts of Justice
Strand, London, WC2A 2LL
Date: 05/07/2017
Before:

THE HONOURABLE MR JUSTICE MACDONALD
- - - - - - - - - - - - - - - - - - - - -
Between:

The London Borough of Brent
Applicant

- and -

D and Ors
Respondents

(Compliance with Guidelines on Judges Meeting Children)

- - - - - - - - - - - - - - - - - - - - -
- - - - - - - - - - - - - - - - - - - - -
Mr Damian Woodward-Carlton (instructed by the London Borough of Brent) for the Applicant
Mr Jerry Bull (of Atkins Hope) for the First Respondent
Ms Shiva Ancliffe (instructed by Creightons) for the Second Respondent
Ms Roma Whelan (instructed by Duncan Lewis) for the Third Respondent
Ms Rupinder Bhinder (of Alexander and Partners) for the Fourth Respondent
Ms Rebecca Mitchell (instructed by Russell Cooke) for the Fifth Respondent
Ms Catherine Nicholes (instructed by MW Solicitors) for the Sixth and Seventh Respondents

Hearing dates: 5 and 6 July 2017

- - - - - - - - - - - - - - - - - - - - -
Transcript from a recording by Ubiqus
61 Southwark Street, London SE1 0HL
Tel: 020 7269 0370
legal@ubiqus.com
- - - - - - - - - - - - - - - - - - - - -
Judgment

Judgment: London Borough of Brent v D and others [2017] EWHC 2452 (Fam).rtf